Date
11 - 12 Feb 2023
Expired!
XTROB – 4.1 Earthquake Solidarity Party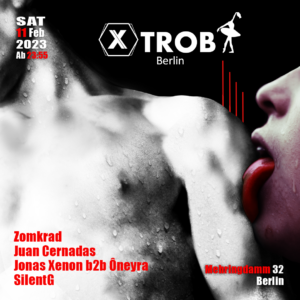 Next 11 February we are inaugurating our 4th season together! We start new with lots of positive energy for this upcoming year feeling virgin again and willing to change that together. Let's let the beats flood the dancefloor, feel it inside us and through our bodies, feel how it moves inside us, feel it deep and hard as the XTROB sound is. Lets discover together who we are this new season, how all slowly evolves, and let's dance together to celebrate that we are still here, that we are together, that we still love each other and that we are writing our story together and that we are alive!
For this night we have prepared a very special event orchestrated by our DJ residents some old and new friends to have an unforgettable night, the first one together this year.
LINEUP:
23:55 – 01:45 Ôneyra B2B Jonas Xenon
01:45 – 03:30 Juan Cernadas
03:30 – 05:15 SilentG
05:15 – END Zomkrad
Come early and leave late!! Limited early bird 10Euros.
Entry until 1AM just 13Euro, 16Euro after 1AM