Date
23 - 24 Jun 2023
Expired!
XTROB all residents
​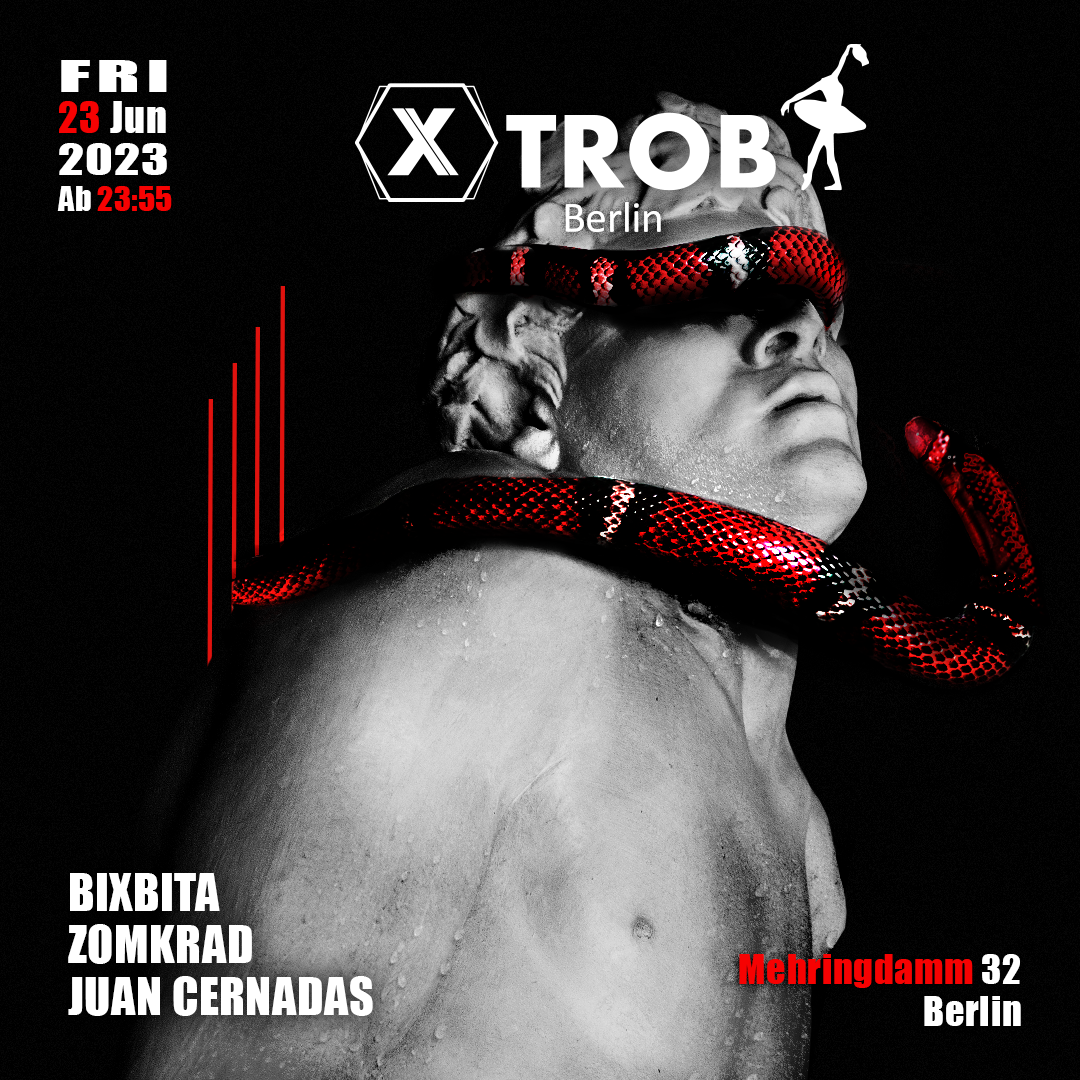 Techno music is not only a form of art but also a medium for self-expression and sexual liberation. XTROB is a safe space for everyone where you can be yourself and explore your sexuality freely. We encourage positive interactions based on consent and respect. We believe that everyone deserves to express themselves fully and enjoy themselves at the party without any judgment.
For this occasion, we have prepared an all resident DJ where we are gladly introducing BIXBITA as the new resident within the crew, alongside Juan Cernadas and Zomkrad. She is a fast rising star in the techno scene and has been spinning tracks for more than five years. Her unique sound is characterized by hard-hitting bass, hypnotic rhythms and dream-like melodies. BIXBITA's music is aimed at taking you on a journey, from start to finish, and getting lost in the music. BIXBITA's love for techno started at a very young age. Growing up in Barcelona, she was exposed to different types of music genres and spent most of her teenage years exploring the local club scene. BIXBITA has played at many parties in Berlin and established herself as a highly energetic and engaging DJ. Her artistry is not only limited to music, but also extends to other arts and is a strong defender of the beliefs in the queer community and the sexual freedom.
Get ready for a night that will combine amazing music and sex positive attitudes. Whether you are a long-time techno fan or a first timer, come and join us and let the beats take over your body. Our party is open to all genders, sexualities, and lifestyles. We welcome you to come and experience the magic of XTROB: techno and self-discovery. Let's dance till dawn and create unforgettable memories together!
Please remember the Community Guidelines our information about consent and our values: at our events you are expected to embrace them all.
NO: Racism, Sexism, LGTBIQ+phobia, Hate, Violence, Agephobia, Bodyshaming or Fascism.
YES: Kindness, Peace, Equality, Love and Hedonism.
Come early and leave late!!
Limited early bird 12 Euro.
Entry until 1AM just 14Euro.
17Euro after 1AM Tickets will be available at the door but presale will have priority and no queue.