Date
29 - 30 Jul 2023
Expired!
UNLEASH Vol. 9
UNLEASH Berlin is BACK, big time: This time we welcome Ivan Sandhas (Cafe de Antolia, The Soundgarden), Chapa & Castelo (La Juanita Records), and No Bad Dayz (Whateverest) to join us on the dancefloor, as well as our residents Danuel and Sueltelo.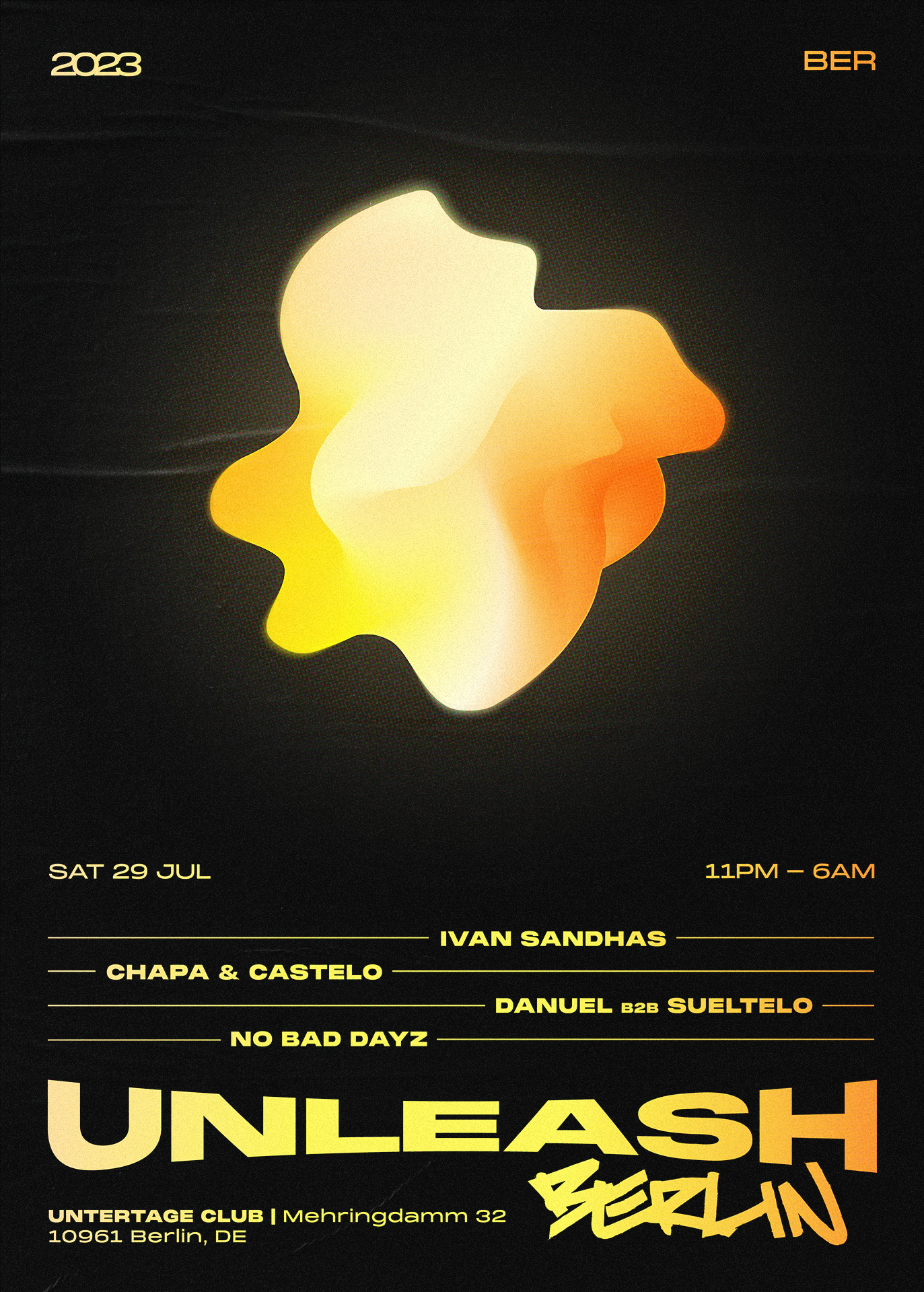 Let's share a magical moment together – grab your finest dancing shoes and let your inner raver come alive as we dance the night away in pure bliss!
 OUR CORE VALUES
* Positive vibes only: Join us in creating a harmonious and vibrant energy by bringing together guests, artists, and staff in a celebration of positivity!
* Guests First: Our 100% dedication is towards you and your experience. We want you to enjoy as much as we do and share a magical moment that lasts over time
* Empowering Emerging Talents: We proudly champion diverse and emerging talents from the electronic music scene, providing them with a platform to shine
* Unite through Music: We LOVE what we do, and we want to share that love with you. Join us in celebrating the power of music in all its forms to unite and inspire
* Embracing Diversity & Inclusion: We wholeheartedly commit to fostering an environment that celebrates diversity and inclusivity. Our aim is to create a vibrant and welcoming space where people from all backgrounds can come together and thrive
TIMETABLE
23:00 – 00:30 | IVAN SANDHAS
00:30 – 02:30 | CHAPA & CASTELO
02:30 – 04:00 | DANUEL B2B SUELTELO
04:00 – 06:00 | NO BAD DAYZ
DRESSCODE
No dress code, come as you are! ONLY positive vibes are allowed! Big groups are welcome too 😉
EVENT INFO
This is a public event with pre-sale tickets   https://ra.co/events/1744545
Venue has limited capacity: don't miss out on the grooves and good vibes and secure your spot as soon as possible!
Sending positive vibes, and see you on the dancefloor!
UNLEASH Team