Date
06 - 07 Oct 2023
Expired!
SUPERNOVA
Strap on your headlights, we're going underground.
Two months have passed since the unforgettable mid summer explosion that was our last Supernova and we admit it: Our fingers are tingling again. Preparations are in full swing and it is our great pleasure to announce that we are returning to the booth this October. For our next Supernova edition we invite you to Untertage, located right at U Mehringdamm, for a hot and heavy night where daylight won't touch. For this occasion, we're happy to have a familiar face (re)join us: The Professor will be greeting you at the door.
R27 residents Xpresso Martina, DJ Übergang and LeSatch will open the floor with sexy synths and bouncy basslines to get you grooving before handing over to Seltsam and Alex Jakupović for a racy finale.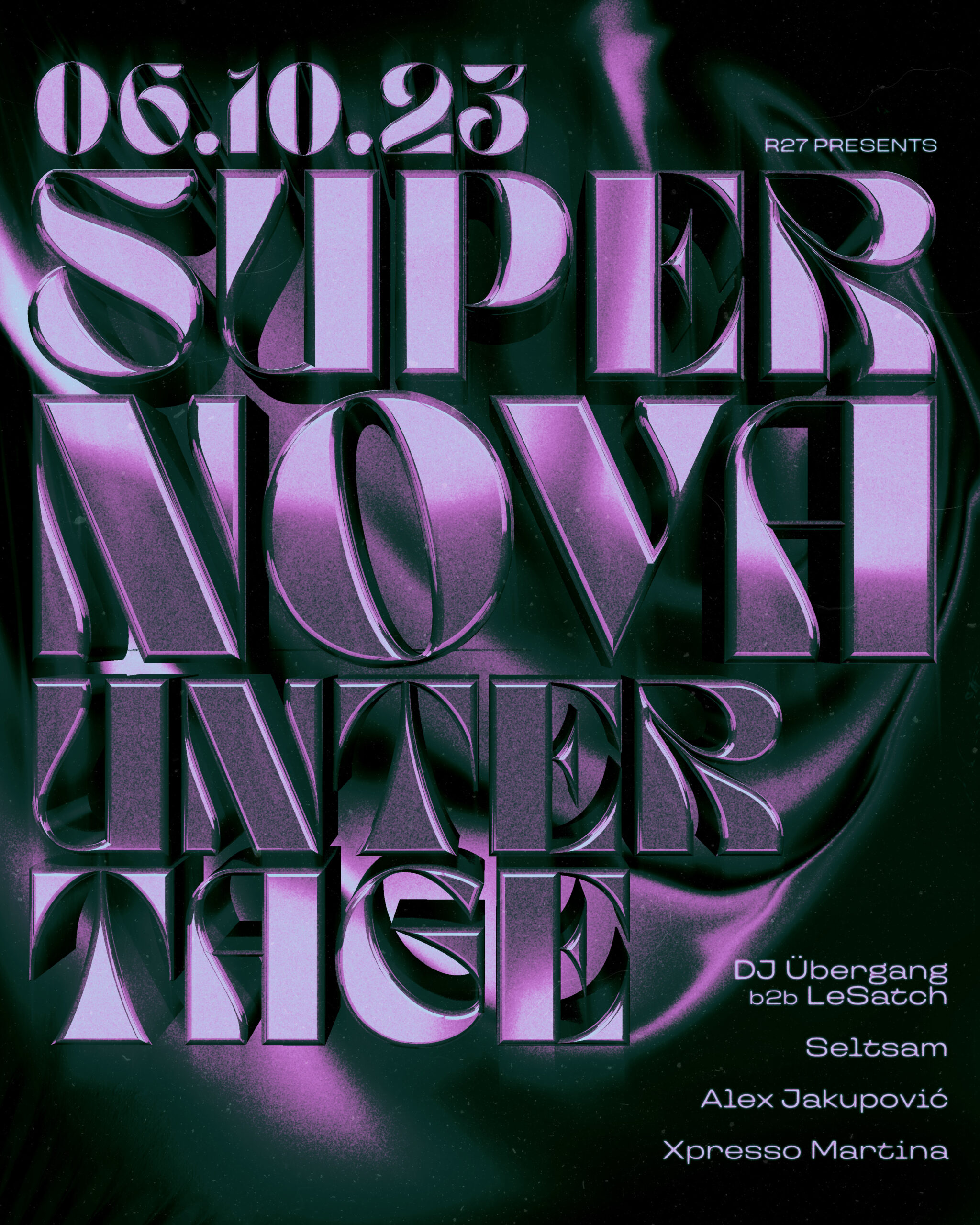 In addition, the upcoming party marks just over a year since the very first Supernova and looking back, we could not be happier. We would like to take this opportunity to thank everyone who stuck with us from the start and also welcome every new face joining us on the dancefloor. This party was launched from a very simple core idea: meeting up with our friends and playing our favourite tracks. We like to think that this concept hasn't changed, just the number of friends has grown. On that note, we're very happy to have another familiar face (re)join us for this edition: The Professor will be greeting you at the door.
So, mark your calendars, dust off your dancing shoes and start counting the days.
See you in the pit!
AWARENESS & ACCESSIBILITY
Please be aware that Untertage is a queer and sex-positive club space and we invite our guests to express themselves freely. For this reason, we follow a zero tolerance policy against any form of discrimination. Should you feel unwell at any point or notice another person being affected, please reach out to the bar staff, cash desk, or any R27 crew members directly (wearing glowing wristbands). You can also join our anonymous awareness chat to get in contact with us fast and direct. QR codes to join will be put up at the event.
We believe partying should be accessible to all. If you are unable to afford the entrance fee, please reach out to us for reduced or free entry: r27.berlin@gmail.com