Date
15 - 16 Jul 2023
Expired!
SUBVERTED x Wraith
For their second T4T/ Queer4Queer/ Gay4Gay/ Dyke4Dyke/ Goth4Goth/ Mullet4Mullet edition at UNTERTAGE, the queer dark industrial techno label SUBVERTED invites WRAITH, a London based event series that is composing a soundtrack of new developments in goth, industrial and dark techno to transgressive performance, fetish, live music and fashion.
Known for their darkroom mixtapes and hailing from the Paris Goth scene, A Gift of Tears is finally debuting with an Industrial/ TBM DJ set in Berlin, serving sensual vibes and dark carnal beats. WRAITH residents PARMA HAM and SPOOK mix heavy industrial techno with hardcore, infused with metal and rave for the era of cross pollination. The style of Khoinix founder ARROSA ranges from 90s old school techno tracks to acidic, hypnotic techno, dark disco, electro, EBM and industrial sounds.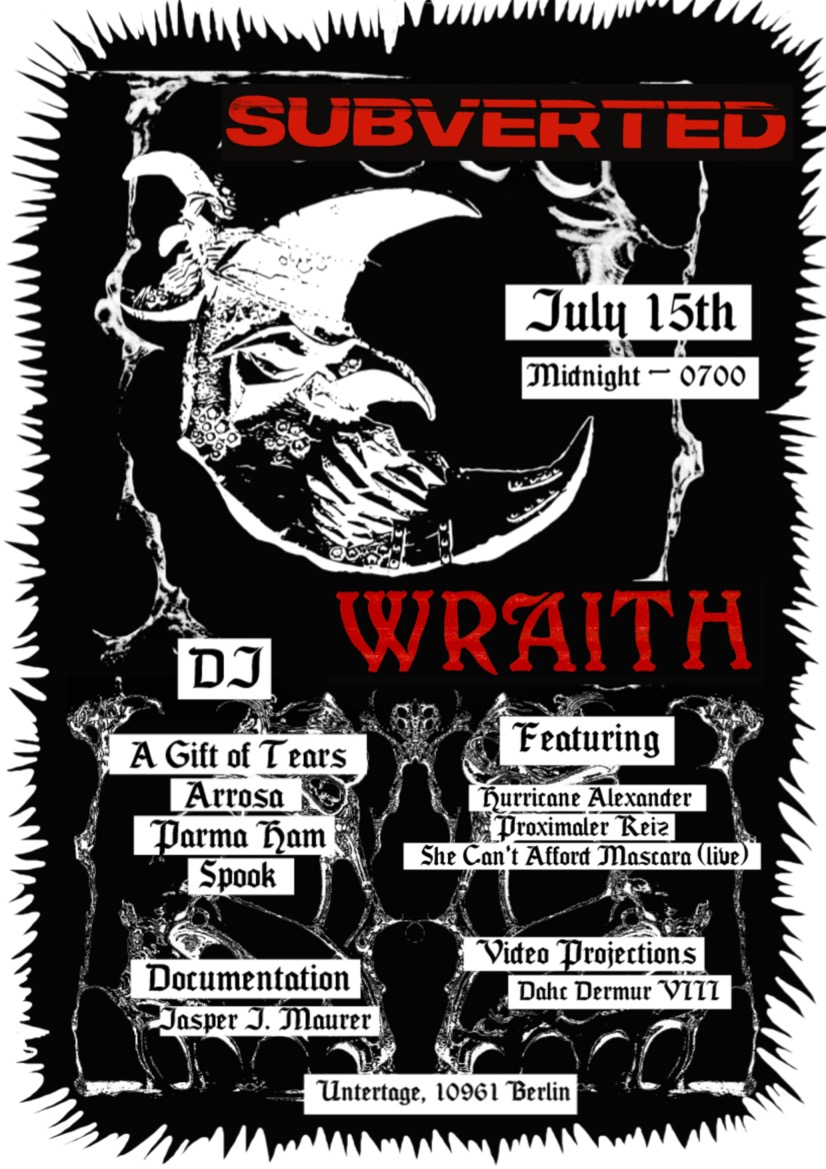 The pakistani Dark Wave/ New Beat/ EBM artist SHE CANT AFFORD MASCARA presents their live set that is full of the melodramatic depressed truth about pakistani goth trauma and the art of delusion and glamour you meet on sticky dancefloors in the scene.
The music is accompanied by choreographies and performances from our scenes unsung hero's – HURRICANE and PROXIMALER REIZ – that center around queerness, strife, and the body. DAHC DERMUR VIII's projections are collages of previous WRIATH performances that revisit the dance 'Butoh' from a queer, dark, and ostracised perspective.
Dark Rooms and Play Areas
Queer, trans and sex-positive venue and event
Photo Corner by Jasper J. Maurer
CONSENT IS NOT JUST SEXY, IT IS MANDATORY and can be revoked at any time.
Seek permission verbally before engaging sexually with another person.
Respect everyone's boundaries, pronouns and gender identity.
We do not tolerate any form of consent breach, and will remove anyone who does not respect other people's boundaries during sexual interactions.
Please be mindful of how intoxication can affect your interactions with others.
An Awareness Team will be present.
The entry fee is a sliding scale from 13-20€
We believe partying should be accessible to all.
If you are unable to afford the entrance fee, please reach out to us for reduced or free entry: subvertedscene@gmail.com
Box Office only. No ticket pre-sale.
The venue is NOT wheelchair accessible.