Date
12 Oct 2023
Expired!
Let´s talk about sex & drugs
ENGLISCH
Let's Talk About Sex and Drugs, an open forum to discuss important topics on sex and partying in an intimate social setting with friends, is happening "regularly" every other month in different, scene-related places of Berlin's nightlife.
Have you ever wanted to discuss topics like sexual health practices, chemsex, HIV, PrEP, or just sex and drug use in general but were unsure where to begin or didn't feel comfortable to ask? This evening provides an open discourse in an intimate environment to openly discuss issues that affect our community in an honest and sociable way.
The event is an open format salon that will feature a rotating panel of writers, medical experts, activists, performance artists, drag queens, and community members that are engaged in promoting sexual health and openly talking about critical topics that can be uncomfortable or taboo for some people to address.
The audience is encouraged to engage and participate by sharing their experience and concerns on these matters while sharing a few drinks with friends.
Brought to you by Martin Viehweger, PANSY, sponsored in part by Berliner Aids-Hilfe, often supportet by SONAR safer-nightlife and man*check this event will take place next time on Thursday, October 9th at Untertage.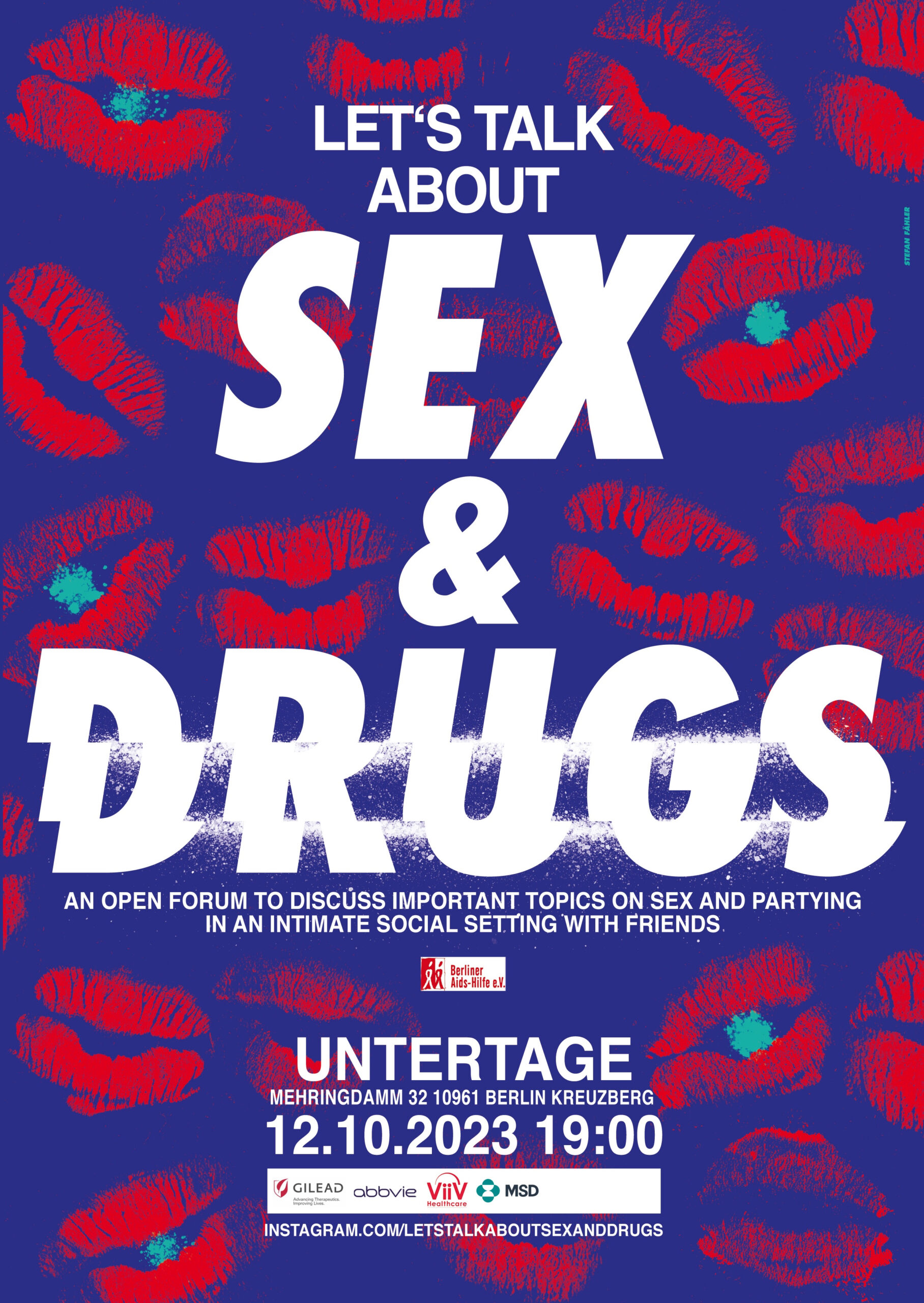 DEUTSCH
"Let's talk about Sex and Drugs" ein offenes Forum zur Diskussion über wichtige Themen um Sex und Party in einem intimen Umfeld unter Freunden, findet "regelmäßig" alle 2 Monate in verschiedenen, szenenahen Plätzen des Berliner Nachtlebens statt.
Wolltest du schon immer mal Themen wie sexuelle Gesundheit, Praktiken, ChemSex, HIV, PrEP oder einfach Sex und Drogen im Allgemeinen diskutieren, aber wusstest nicht, wo man beginnen soll oder fühlst Dich unwohl zu fragen?
Dieser Abend bietet einen offenen Diskurs in einer intimen Umgebung, offene Fragen zu diskutieren, die unsere Cummunity beeinflussen, in einer ehrlichen und geselligen Weise.
Die Veranstaltung ist ein offenes Format, eine Art Salon mit Mikrofon zum gemeinsamen Austausch. Teilnehmer sind vor allem das Publikum und Autoren, medizinische Experten, Aktivisten, Performance-Künstler, Drag Queens und Community-Mitglieder die bei der Förderung von sexueller Gesundheit tätig sind. Sie reden offen über kritische Themen die für einige Leute wahrscheinlich taboo oder unangenehm zu adressieren sind.
Das Publikum wird ermutigt teilzunehmen und sich zu engagieren und ist eingeladen, seine Erfahrungen und Bedenken zu diesen Themen während ein paar Drinks mit Freunden zu teilen.
Von Martin Viehweger, PANSY, teilweise von der Berliner AIDS Hilfe gesponsert, oft unterstützt von SONAR safer-nightlife und man*check, wird diese Veranstaltung am Donnerstag den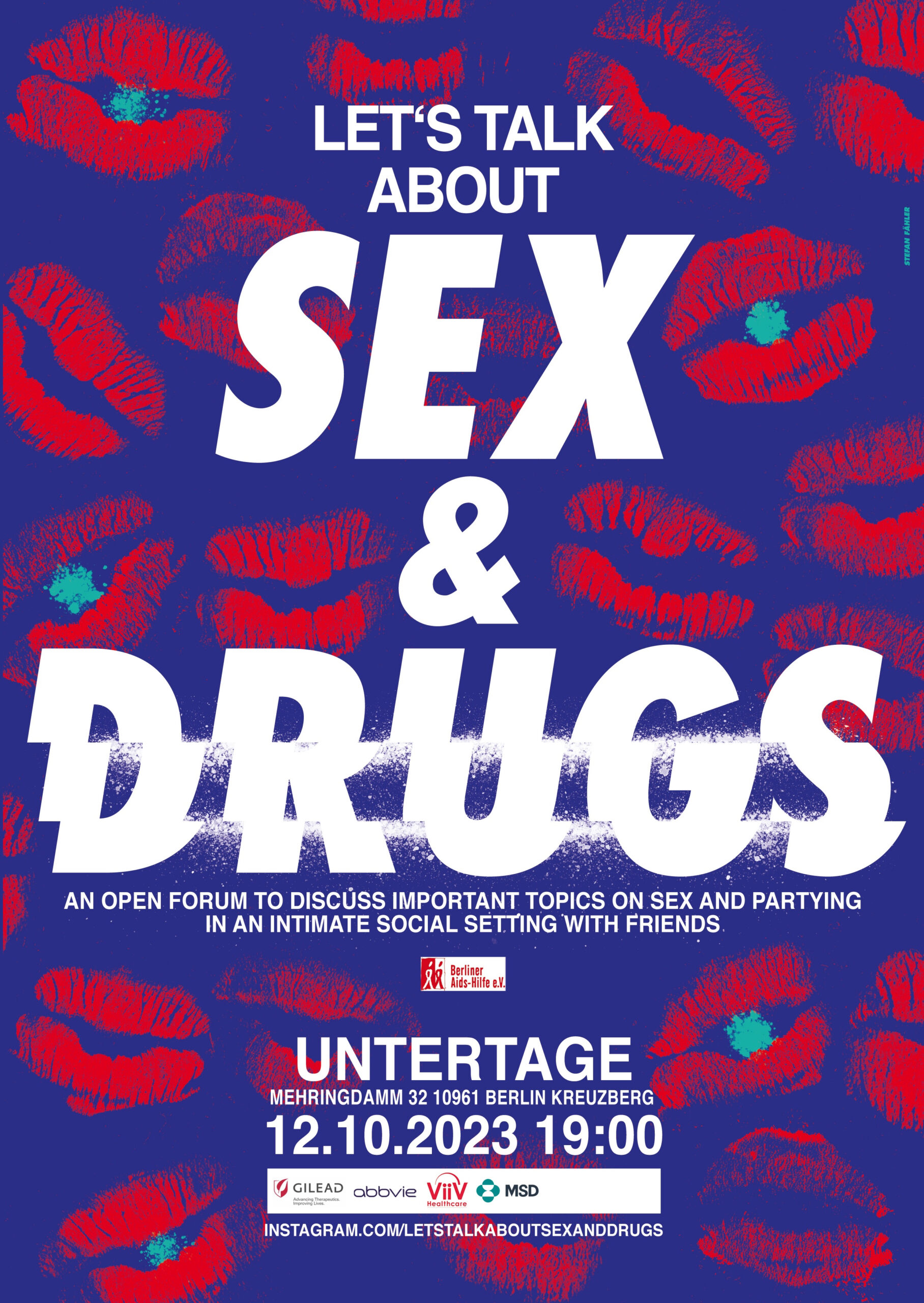 12. Oktober im Untertage stattfinden.