Date
17 - 18 Mar 2023
Expired!
FUCK YOUR GENDER [.] [.] is back again!
On Friday 17.03.23 we are going to make you hot horny again with our beats and bodies.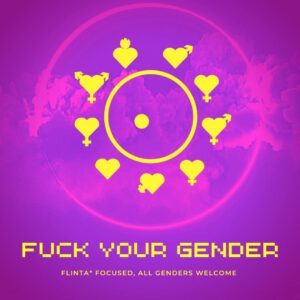 FLINTA* stands for women, lesbian, inter, non-binary, trans*, a-gender and everything else not cis male. For us that doesn't mean just queer women and afab non-binary cuties, but trans* masc and amab non-binary babes as well! We want to make sure that all of our queer siblings who normally don't feel welcomed in party spaces do so at our party and are comfortable to get hot and sweaty with us.
Our party is FLINTA* focused, but ALL GENDERS are welcome. So if you are a cis guy pls think about if you really want to enter this space, if you really need this space in that evening and about how much room you will be taking then.
At the party you find our awareness team to talk to and some nice and cute posters about consent rules.
DJs: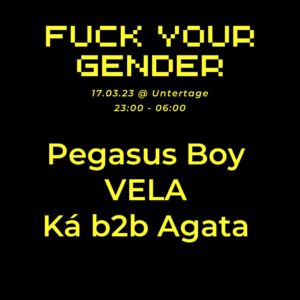 Performance:
Jude (@lailawazhere) 
doors: 23h (come as early as possible)
entry: 12-15 Euro (you can choose what you are able to pay)
DRESSCODE: The nippleliberationarmy especially welcomes your creative ideas to free your nipples (we count wearing a Binder as being topless), regardless of your gender. We especially support FLINTA* for a free and explorative expression on the dancefloor AND in our extremely FLINTA* friendly darkroom. Consent is the key here! Follow the rules of consent, so we all can feel save and sexy. It is the time to celebrate your beautiful body in whatever way you feel sexy and comfortable with. We encourage you to take pride in your nipples and find your way to bring them to the dancefloor – all naked/with binder, dressed up for the glittering stage or nicely disguised
DRESSCODE:
The nippleliberationarmy especially welcomes your creative ideas to free your nipples (we count wearing a Binder as being topless), regardless of your gender. We especially support FLINTA* for a free and explorative expression on the dancefloor AND in our extremely FLINTA* friendly darkroom. Consent is the key here! Follow the rules of consent, so we all can feel save and sexy. It is the time to celebrate your beautiful body in whatever way you feel sexy and comfortable with. We encourage you to take pride in your nipples and find your way to bring them to the dancefloor – all naked/with binder, dressed up for the glittering stage or nicely disguised WE LOVE FETISH OUTFITS and we wanna indulge in loving our bodies, so please feel welcomed to join that passion. And to our cis male guests and allies: Please, there are more creative ways of showing nipples than just being topless- ask your feminist friends, show some effort and get creative