Date
25 - 26 Aug 2023
Expired!
Field Conspiracy x Cosa Nostra Berlin present: UNITY
Unleash the power of UNITY at our party special by FIELD CONSPIRACY and COSA NOSTRA BERLIN.
Prepare yourself for an eclectic gathering where boundaries are shattered, inhibitions are set free, and the pulse of the night becomes your guiding force.
We welcome you to a captivating fusion of the fetish scene and newcomers seeking an enchanting journey into uncharted realms. Get ready to embark on an unforgettable adventure through a space that's safe, inclusive, and designed to ignite your senses!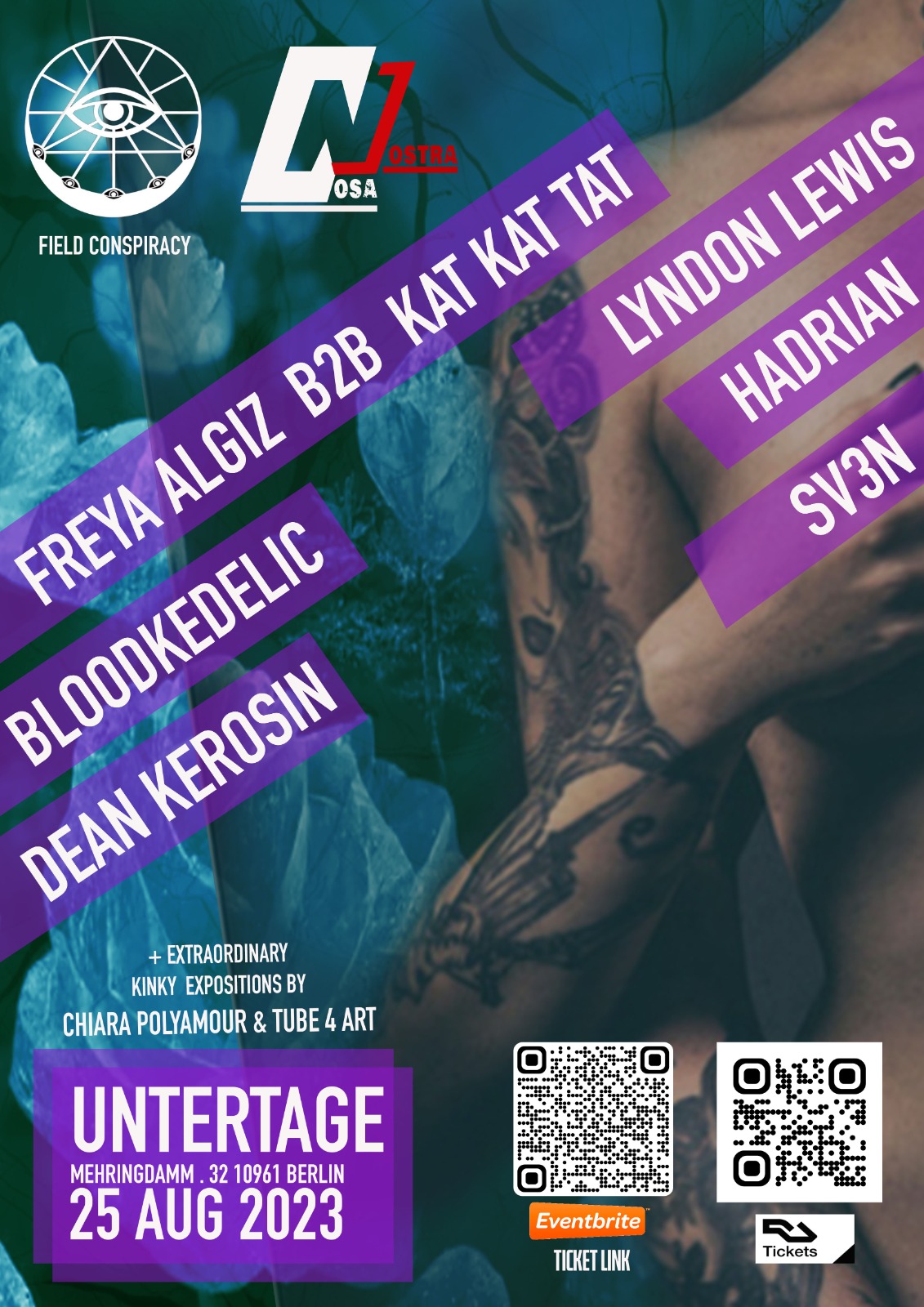 A Playground of Pleasure and Exploration
Within our sanctuary, indulge in the tantalising delights of our dark rooms and spaces that celebrate human connection, sensuality, and self-expression. Engage with kindred spirits, explore your desires, and embrace the power of conscious interaction. Remember, consent is the cornerstone of our universe, where a clear "yes" is cherished, and a clear "no" is honoured with utmost respect.
We will have an awareness team on site. If you feel unwell or uncomfortable, please reach out to any of the staff or team members (distinguishable by red wristbands).
Immerse Yourself in the Conspirations Experience
From pulsating beats that move your very core to mind-bending soundscapes that awaken your soul, our carefully selected artists will transport you to an otherworldly realm of auditory bliss
For some eye candy, you can find Chiara Polyamour's paintings of kinky dimensions to ignite your imagination and taking you on a visual odyssey of subtle perversions.
Dresscode
Attire that embraces personal expression is highly encouraged, with an emphasis on the allure of fetishwear for those who dare to indulge. However, we also wholeheartedly embrace and welcome those who choose to find comfort in their own choosing of attire.
If at any point you feel inspired to adorn yourself in a unique and alluring ensemble, you can explore the exquisite realm of upcycled fetish wear crafted with love by Tube4Art. Each meticulously handcrafted piece is skillfully fashioned from recycled bicycle rubber, adding an intriguing twist to your kinky wardrobe choices.
Tickets
Secure your passage to this unparalleled extravaganza by obtaining your ticket to enlightenment!
10 EUR (presale)
15 EUR (door)
We understand that financial constraints should never hinder one's ability to experience true liberation. If you're on a low income and have difficulty to pay, please reach out to fieldconspiracy@gmail.com for a discounted ticket.
We welcome everyone, regardless of your background, preferences, or identity. We are a fusion of diverse souls coming together to celebrate freedom and unity and to embrace ourselves, just as we are.
Entry will be guaranteed by passing the vibe check on the door !
// NO PHOTOS // NO GHB // NO SEXISM // NO HOMOPHOBIA // NO RACISM // NO TRANSPHOBIA // NO HARASSMENT // NO BODY SHAMING // NO ABLEISM // NO DISCRIMINATION OF ANY KIND